So you own an electric toothbrush. Personally I use a Sonicare® and love it. The only thing I didn't like was the toothpaste foam running down the handle and getting on my hand. Enough was enough. I started experimenting in my lab and eventually came up with the HandleDry, an accessory for your electric toothbrush that keeps the foam at bay. It's a simple solution that works like a charm.
 The Toothbrush Market: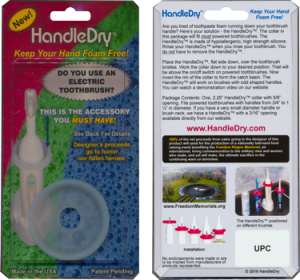 There are several types of electric toothbrushes.
Even though manufacturers introduce new manual brushes at a dizzying rate, improved electric toothbrushes make new converts each year.
"The best guesses put electric toothbrush users at about 20 percent, maybe as high as 25 percent of the market," says Alexandra Artisuk, D.D.S., a general dentist. "Each year, I see more and more of my patients using electric brushes."
If more people are making the switch to electric, why do companies bother to develop new manual brushes?
"Mostly because electric toothbrushes are more expensive than manual brushes, which you can easily purchase for less than $2," says Kathy Hettrich, professional marketing manager for Bausch & Lomb. Her company revolutionized the electric toothbrush industry when it produced the Interplak® toothbrush three decades ago.
"We think more and more people will switch to electric but we don't see a time when manual toothbrushes will be a thing of the past," she says. "It is logical to believe that electric brushes could eventually take over more than half of the market because they are superior plaque removing devices."
Indeed, numerous studies confirm that electric brushes are superior plaque removing devices and are extremely effective in stimulating gums. But consumers like them for another reason: They are simply easier to use, especially for older people who may have dexterity problems.
"You often hear dentists say they don't care whether their patients use a $2 brush or a $100 electric-powered brush, just as long as they use it correctly to remove plaque," says David Engel, D.D.S., Ph.D., director of research and regulatory affairs for the Bellevue, WA-based Optiva Company, maker of Sonicare®. "However, electric brushes have been proven much more effective than manual brushes in many studies."
Another myth, he says, is that electric toothbrushes are nothing more than fancy toys that people use for a while, then stash under the sink. "People use them and keep using them and usually find it hard to return to manual brushes," he says. "The market for electric brushes is increasing because people find them effective."
Some electric models include interchangeable color-coded brush heads, so one power handle can serve a family of brushers. Others have built-in timers. Travelers can find models that go for two weeks without a recharge.
SKUs Skew Oral Care Profitability
The number of product offerings in the oral care market is astounding. What once used to be basic offerings of toothpaste separated by brand is now a complex decision tree. Which flavor do you want to buy? With or without sparkles in the gel? Gel or paste? Whitening, normal or for sensitive teeth? The licensed characters version or plain? Even dental floss requires decision-making – "Do I want cinnamon or mint flavor, or just plain? Waxed or unwaxed?"
We remember the days when you bought one toothpaste, one toothbrush, and that was it. We didn't have all these choices. But more products lead to more sales.
In short, the oral care market has matured, and this has resulted in this explosion of oral care product sales.
One research company, Packaged Facts, believes that oral care products will reach $6 billion annually in sales by 2017, which is an increase of 4% yearly. If you're interested in trends, watch for more unique offerings, such as dental care products targeted specifically for diabetics, a market that is unfortunately a growing part of the U.S. population.
Prospects
Oral care in the US is predicted to rise 10% in constant value terms over the forecast period to achieve retail sales of US $7.6 billion in 2017. An inclination to trade up to more premium-positioned products and ever-increasing levels of disposable income to enable this point towards an increasingly positive market for oral care. Should the public's desire to maintain a better level of overall health intensify, it is also possible that innovative products such as Orabrush's tongue brush will see more mainstream adoption, driving growth even more.
The HandleDry Toothbrush Accessory
As of this date, March 7, 2015, the HandleDry is produced individually in my lab. You can read all about the product's inception on the development page. I send these one off pieces to testers around the country. Manufacturing and packaging is in place.  If you might be interested in supporting a rewards based crowd funding campaign, sign up on my Notification List.