Welcome
Thank you for taking a moment of your time to complete our short, anonymous product survey. Your input will be a valuable guide in our marketing strategy. If you would like to help us spread the word through social media about this survey, please click the button below. Clicking the button will take you to our 'Assistance' page.
The Product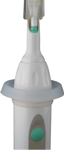 The HandleDry is a silicone collar designed to fit most electric toothbrushes. When fitted, the collar stops the toothpaste foam from running down the handle and getting on your hands. The photo at left is a HandleDry fitted on a Sonicare. The collar will fit toothbrushes that have odd shaped handles as well. Read more about the HandleDry on our opening page.
Crowd Funding
We are considering a crowd funding campaign to raise the funds necessary to get the HandleDry into production. First we have to build a good size mailing list of potential supporters. Without that list, a crowd funding campaign will probably not be successful. Supporters will be the first to receive a HandleDry.
Powered by

After completing our survey, which will come up in a new tab, you can be added to our crowd funding mailing list by clicking here.
We decided not to offer an incentive for completing this very short survey. We do not want the offer of an incentive to be a motivating factor when deciding to participate.